I have a problem... with nail polish! It is becoming ridiculous but I honestly don't care because I love it and its not too expensive of a hobby. I bought some polish at different places so here they all are.
From everywhere!
Essie 3 way glaze. Never tried this before but I needed a good new topcoat so I thought I'd give this a try.
Mom cleaned out her nail polish and was going to put them in the garage sale and I scooped them up! Awesome fall colors. Colors left to right ...NA, Bogie, Crepes Suziette
Top: Spotted these at UO and I have never tried there polish but they are quite beautiful!
L to R: Dust and Afterhours
Bottom: Grabbed this amazing green at Walgreens its by SinfulColors and I haven't tried this brand so when I saw the color I knew it was for me! It is San Francisco.
This sparkle is from Forever 21. They have some amazing sparkle polishes lately and I own some. I thought this would be beautiful with San Francisco. It is Green.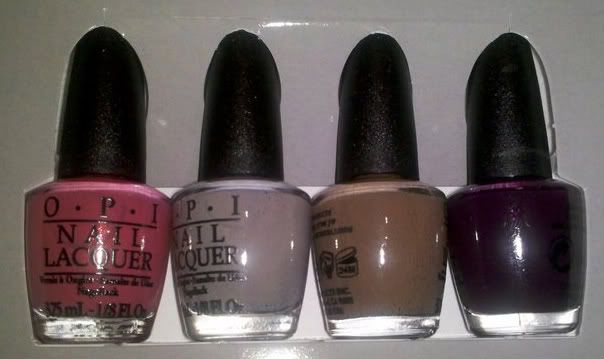 Lastly I grabbed these mini OPI's. I collect the minis because i'm obsessed with tiny things! So I saw these and knew they had to be mine. They are amazing fall colors, all of them and I truly love them!
Love nail polish!
Any recommendations?
xoxo,
Heather